Bud Heath
Biography
Renowned inventor and entrepreneur, Bud Heath has always had a heart for writing. He quickly became accustomed to change as he moved frequently throughout his childhood. Refusing to succumb to poor social conditions of his youth, he used his talents to propel himself to a more fortunate future. He spent arduous hours working on a farm growing up, learning the importance of diligence and hard work at a very young age. At 17 he joined the Marine Corps for four years, serving in the Korean War specializing in communications. After the military, Bud invested his time in expanding career endeavors. He became versed in factory labor, construction labor, worked in a saw mill and as a machinist. His college attendance was sporadic because of work and raising a family, and he began to read and study on his own, taking classes at night and becoming self-educated. He developed skills leading to his successful career as an artist, writer, inventor, and businessman. As he survived the Great Depression and other worldly tribulations, Heath has endured some of the most historically devastating eras. His newest philosophical writing, Humantics explains a fool-proof and positive approach to sustain a more harmoniously functioning world.
Where to find Bud Heath online
Books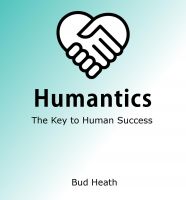 Humantics
by

Bud Heath
(5.00 from 3 reviews)
Humantics has a knack for digging up the essence of both crooked and compassionate sides of humanity, exposing the true grit beneath. Mix in some thoughtful, serious-minded speculations, with encouraging solutions for a sanity driven world, this collection is an eclectic, easy to follow read.
Bud Heath's tag cloud