William Brown
Biography
The author is the brother of Frank W. Brown and knew him as a child during WWII. He is a graduate of the University of Buffalo, School of Engineering and served in the USAF for three years at Wright Air Research & Development Command followed by 33 years at the NASA Glenn (Lewis) Research Center. He authored several technical papers and the Hydrogen & Oxygen Safety Manuals, retiring in 1993. He has been married to his wife Mary Ann for 56 years, has four sons: Frank, Richard, Robert, Christopher, 12 grandchildren, and two great-grandchildren.
Books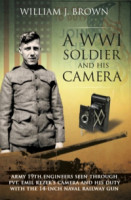 A World War I Soldier and His Camera, Army 19th Engineers Seen Through Pvt. Emil Rezek's Camera And His Duty With The 14-Inch Naval Railway Gun
by

William Brown
A story of an American soldier in World War I that served in both the Navy and Army. Pvt. Emil Rezek was an avid photographer with his Kodak camera, which along with his diary and photo comments thoroughly enriches the story.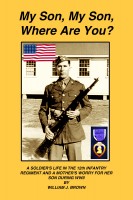 My Son, My Son, Where Are You?
by

William Brown
A true story of an American soldier in WWII told through about 500 letters to his mother. Staff Sergeant Frank W. Brown, serving in the 12th Infantry Regiment, landed on Utah Beach on June 6, 1944, and shortly after gave his life for the freedoms we enjoy today. The content of his letters depict life in the army in the 1941 to 1944 period and reflect the life of the family on the home front.
William Brown's tag cloud