Dan Hynes
Biography
Dan Hynes has been a serving Naval officer for over thirty years. Born in Ontario, Canada he began his naval career as a Seaman Officer serving onboard Destroyer Escorts sailing from either Halifax into the Atlantic or Esquimalt into the Pacific. After fourteen years there, involving various NATO, UN and overseas deployments, he transferred into service with the Royal Australian Navy. In 1996, he was posted onboard HMAS BRISBANE for an initial circumnavigation opportunity of Australia. He then went on to complete Principal Warfare Officer training at HMAS WATSON and was subsequently posted west. Following postings to HMAS CANBERRA and ADELAIDE he was appointed Executive Officer of HMAS STIRLING. It was during this period that he received his call to Ministry. He completed in-service training for Chaplaincy with the Australian College of Theology and the Baptist Theological College of Western Australia in 2007. Chaplain Hynes was ordained in October 2009. He and his wife, Mandy recently celebrated thirty years of marriage. They have two great sons, Josh and Adam. He enjoys date night, spending time with his family, reading a variety of books, and going for walks along the beach with Sam (the family dog).
Books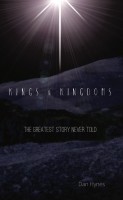 Kings & kingdoms: The greatest story never told
by

Dan Hynes
Why has this 'story never been told'? The birth of Jesus – really? Surely everyone knows the Christmas story? Wrong! Prince Rahim, leaves his dying father and his homeland, to pursue a family mystery that will lead him on a holy quest centuries in the making. A twisted tale of passion and prophecy. The story behind the 'War in Heaven'. 'Kings and Kingdoms' will reset the Christmas story forever.
Dan Hynes' tag cloud