Erica Clark-Rossam
Biography
Erica Clark is currently a clinical psychologist and hypnotherapist in private practice in Durban, South Africa.She is also a practitioner of Trauma Release Exercise and Brainworking Recursive Therapy. She started her working life in the business world, became an art teacher, and then gained degrees from the University of London and Natal (now the University of Kwa-Zulu Natal). She has Master's degrees in the History of Art and Psychology. She taught both subjects at university level. She has written two self-help books,The "Guardian Within: Beyond fear and defence to inner strength and ease" and "Who Pulled the Plug on my Fantasies...and how to find contentment", and a third entitled "Absent Parent, Absent Partner: Unfinished business in relationships" is in progress. She recently published a collection of her poetry, "At the Wild Edge between Water and Earth", and has work in several anthologies. She hosted the Barefoot Poets for ten years in Durban, co-founded a hiking club,"The Amblers", practises yoga and loves to paint and dance. She is happily married to Clive Rossam.
Smashwords Interview
Books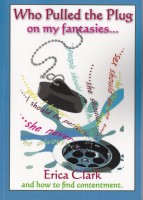 Who Pulled the Plug on my Fantasies...and how to find contentment.
by

Erica Clark-Rossam
The book explores what prevents people from achieving happiness and contentment, and how to attain and sustain a satisfying measure of both. It explains how our conscious fantasies and largely unconscious phantasies are full of "shoulds", "oughts", "musts" and "buts", that make lived experience seem painful, dull or difficult. Ways of accessing our phantasies and unproductive beliefs are offered.
Erica Clark-Rossam's tag cloud