Inola Clemmons-Wright
Biography
Inola Clemmons Wright is former U.S. Air Force brat who attended 6 different schools between grades K-8. Born in California, she has lived in Illinois, Colorado, Missouri, Washington, and Dublin, Ireland. She is a graduate of the University of Illinois at Urbana - Champaign and Trinity College, Dublin. She holds degrees in history, law, and sociology, and she writes about atypical characters with atypical stories.
Books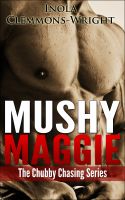 Mushy Maggie
by

Inola Clemmons-Wright
Plump, shy, and awkward, Margene Dalton is tired of her boring life and tired of being bullied. After a mini-makeover, Margene is ready to get revenge on the woman who has spent years tormenting her. When her initial plan backfires, she consoles herself by falling into the arms of her bully's boyfriend.
Inola Clemmons-Wright's tag cloud