Israel God
Biography
ISRAEL GOD, a bondservant of Jesus Christ of Nazareth, called to be a prophetic teacher, separated to the gospel of God, which He promised before through His prophets in the Holy Scriptures, concerning His Son Jesus Christ our Lord, who was born of the seed of David according to the Spirit of holiness, by the resurrection from the dead. And who is among the voice making straight the way of the Lord for His return.
Where to find Israel God online
Books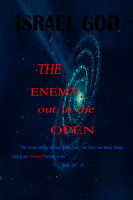 The Enemy out in the Open
by

Israel God
Like the ancient wisdom, which is forever engraved, boldly burnt into the tablets of time, declares: "Know thy self! Know thy enemy!" So the purpose of this work is to help the reader get back in touch with the knowledge of who he or she truly is, so as to live the triumphant life that was once lost and forgotten.
Israel God's tag cloud