Ian T. Mello
Biography
Ian T. Mello is a screenwriter, specializing in comedy and drama scripts. He is known for writing and directing the short film The Designated Driver, which appeared in the 2013 Rhode Island Film Festival. His credits also include numerous appearances as an extra for WWE. He is currently earning a Bachelor of Fine Arts in Creative Writing from Full Sail University, and has a BS in Communications. His passions are music and wrestling, he loves cooking and tattoos, and is a bit of an adrenaline junkie.
Where to find Ian T. Mello online
Books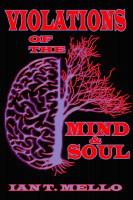 Violations of the Mind & Soul
by

Ian T. Mello
If crime, suspense, and a splash of fantasy tickle your fancy, VIOLATIONS OF THE MIND & SOUL by Ian T. Mello might be the prescription to your ailments. Comprised of three flash fiction stories that appeal to the majority of your senses, Mello shares three pieces from his growing collection of literary rollercoasters.
Ian T. Mello's tag cloud