Ian Woollen
Biography
Ian Woollen was born and raised in Indianapolis, Indiana. Shipped off to boarding school at age fourteen, he eventually graduated from Yale University and Christian Theological Seminary. A checkered job history includes house painter, furniture stripper, script reader, psychotherapist. His first novel, Stakeout on Millennium Drive, won the 2006 Best Book of Indiana Fiction Award. His short fiction has surfaced in a variety of journals, including The Massachusetts Review, Juked, decomP, The Smokelong Quarterly, and The Mid-American Review, from which he received a Sherwood Anderson Prize. You can find Ian online at woollen.coffeetownpress.com.
Where to find Ian Woollen online
Books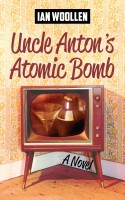 Uncle Anton's Atomic Bomb
by

Ian Woollen
Mary weds Ward Jr., heir to the well-to-do Wangerts of Indianapolis, and together they raise three sons. As they negotiate a rocky path through the '50s, '60s, and '70s, they take turns spinning a nighttime yarn inspired by the idea: what if Anton Chekhov wrote a story about the atomic bomb? A tragicomic mix of upper-crust romance, sibling warfare, boarding school drama, and C.I.A. skullduggery.
Ian Woollen's tag cloud