Miranda Wrights
Biography
The author is not a lawyer. Rather, she is a writer and activist. And, more importantly, the mother and parent of three now early-thirty-something adults and former fearless, but inexperienced teenage drivers.

She believes that teen drivers are like most adult drivers (including you, dear reader when we were newbie drivers); in that they made and make, albeit infrequently, driving mistakes, had minor car accidents, and get ticketed at least once. Still, the author feels very fortunate even lucky frankly to have survived her early driving experiences and police encounters, and that her kids likewise survived their vehicular accidents and various traffic stops by police.

How about you… and your teenage driver?
Do you and/or they think or feel the same?

This ebook can help readers understand the what and why of police traffic stops.
Books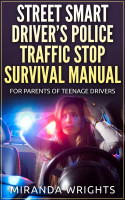 The Street Smart Driver's Police Traffic Stop Survival Manual: For Parents & Their Teenage Drivers
by

Miranda Wrights
WARNING: A cop is pulling your teen driver over—what now? Parents of a teen driver can pass on a wealth of safe driving habits and practical driving wisdom; but what about dealing with law enforcement in your teen's first, eventual police traffic stop? Being stopped by the police while driving happens a lot, yet do you or your teen driver know the right ways to handle (and survive) a traffic stop?
Miranda Wrights' tag cloud