Molly Mahoney Matthews
Biography
Molly Mahoney Matthews began her career as a single parent swimming for her life and the security of her children. From meager beginnings she built a company of 150 employees and $10M in revenue. According to Molly, "Work acts as ballast, undergirds you with purpose, distracts you from pain, and brings you back to your most creative self." In each chapter, Molly describes her business foibles and accomplishments with humor and savvy. She has made the mistakes so you don't have to and offers guidance so you can: Find the Right Job Even in Stormy Seas, Navigate Challenges to Move Up in your Career, and Become Captain of Your Own Ship and Build Your Own Enterprise!
Where to find Molly Mahoney Matthews online
Books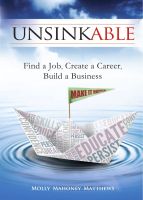 Unsinkable: Find a Job, Create a Career, Build a Business
by

Molly Mahoney Matthews
How can you create less stress, more time to enjoy family & friends, and a good paycheck? Molly uses "Irish Story Telling" to give readers spirited advice on how to stay afloat during job interviews and swim upstream through office fiascos and business blunders. She has made the mistakes so you don't have too! Molly's stories are your hot toddy and warm blanket so you can JUMP in with both feet!
Molly Mahoney Matthews' tag cloud