Aaron Jones
Biography
Aaron "Incpin" Jones is an established public speaker, self-published author, and web content creator. In addition to publishing and writing several books such as The Great Invitation a collection of poetry and Beautiful Ugly a fictional drama, he has also served as youth mentor across the greater Los Angeles region. Several organizations have invited Aaron Jones to be a keynote speaker such as Los Angeles County Department of Public Services, Los Angeles County Department of Children Family Services, California Youth Authority, Manformation youth organization, and many others. Aaron's educational background includes an Associate of Arts in Communications and a Bachelor of Arts in English. As an entrepreneur, Aaron was co-owner of We Serve (community outreach group and social media community) and the current owner of Incpin Media. Aaron especially enjoys being able to use writing as a tool to engage his audience in a variety of methods such as poetry, journalism, short stories, blog post, and novels. His writing skills can be confirmed on www.incpin.blog.
Where to find Aaron Jones online
Books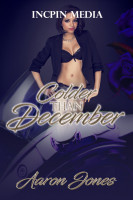 Colder Than December
by

Aaron Jones
Three months ago, December was cheated on by the love of her life and her career. To make matters worse, her ex-boyfriend Ace is now happily married and expecting a child with the love of his life Melody. When it all falls down for December, thank God her new friend Jasmine is there to help her pick up the pieces. Keep your friends close and your enemies closer. Is Jasmine Colder than December?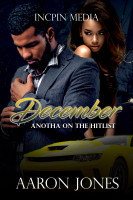 December: Anotha on the Hitlist
by

Aaron Jones
A naïve woman by the name of Kianna who works in a call center falls in love with the charming, handsome, and intelligent Ace. With his silver tongue and handsome looks he instantly becomes the knight in shining armor that Kianna needs. When Ace finds himself in a financial bind he asks Kianna to risk it all to help him out. Kianna agrees but finds herself in more trouble than she bargains for whe
Aaron Jones' tag cloud