Indershini Pillay
Biography
Indershini (Desh) Pillay is the Professional Practice Leader for Speech-Language Pathology at Providence Health Care in Vancouver, Canada, and has over 20 years of experience as a Speech Therapist. She is a clinical instructor at the University of British Columbia Faculty of Medicine and has presented nationally and internationally on topics such as Talking for Success and Working with Interpreters. Desh holds a Master of Science degree from the University of Oregon.

Desh established Talk Speech and Language Consulting in 1998 to help ESL speakers maximize their communication potential. Since then, she has effectively changed and improved the communication of her clients by using simple techniques that work. Desh immigrated to Canada many years ago and is passionate and committed to helping ESL speakers improve their communication.

When she's not busy at work, she loves traveling, cooking and spending time with her family.
Books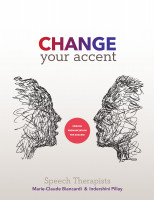 Change Your Accent: English Pronunciation for Success
by

Marie-Claude Biancardi

&

Indershini Pillay
"Change Your Accent: English Pronunciation for Success" was developed by registered Speech Therapists. This comprehensive book, provides a step-by-step approach to accent reduction and empowers the reader with essential accent modifications tools to communicate effectively and confidently.
Indershini Pillay's tag cloud