Ira Jacques
Biography
How does one consolidate their life into one short blurb and do it justice? I'm a guy on the nerdy side of the spectrum. You remember the movie Revenge of the Nerds? If Buzzfeed ever gets around to determining the nerd I'd most be like, I have no doubt I'd end up as Gilbert, the one played by Anthony Edwards. Incidentally, Gilbert and Lewis were best friends in the movie, and Gilbert Lewis was one of my idols in chemistry as a high schooler. But I digress. I am a mechanic. Why? Because I enjoy the work. I'm not some Ayn Rand Atlas Shrugged-esque engineer on strike. I actually do a good bit of design and engineering work in my shop. But that's to modify cars and trucks. I do live in Southern California, after all.
I started writing after my stepson's death in 2010. This first book, "Hey God, Maybe it's Your Plan, but I Don't Want to Die" is written by my stepson, Greg Holcomb-Jacques, but it was published posthumously by me. It was originally published for Kindle in 2012, but I have decided to make a free version on multiple platforms now via Smashwords just to have the story told. Thank you for reading.
Ira
Books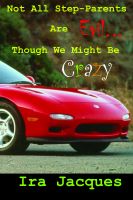 Not All Step-Parents Are Evil...Though We Might Be Crazy
by

Ira Jacques
In 2009,my stepson, Greg Holcomb-Jacques, was diagnosed with DIPG, which is short for Diffuse Intrinsic Pontine Glioma, a type of brain cancer. We shared a very special relationship, and I would argue that even though he was a stepson and not my blood, he was every bit my son as any biological son could have been. I loved him and miss him dearly. But DIPG didn't kill him, and I seek the truth.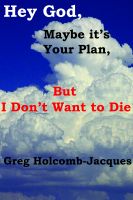 Hey God, Maybe it's Your Plan, but I Don't Want to Die
by

Ira Jacques
Price: Free!
Words: 13,150.
Language: English.
Published: February 27, 2014
. Categories:
Essay
»
Author profile
This is the diary of Greg Holcomb-Jacques, a teenage boy who was diagnosed with DIPG, a form of terminal brain cancer. Greg's coping mechanism was to journal his thoughts in this diary, which provides insight into the teen mind of a boy confronting his mortality. The book takes Greg's words verbatim, and therefore contains strong language from time to time.
Ira Jacques' tag cloud