Tery Fugate-Wilcox
Biography
Tery Fugate-Wilcox & Valerie Monroe Shakespeare,1944-2011,together 24/7 for over 25,000,000 minutes. An amazing life;from running away from home, (Valerie) to getting married at 18 after knowing each other only 3 days. Then, moving from a tiny hick town just outside of Kalamazoo, Michigan to New York City, ("Gee! More people live in that building than in my whole home town!) to pursue his career as a full-time artist, (Tery, "Valer!e made it possiable that all I had to do was art for 48 years.!"). We become icons in the art world, entertain many celebrities & royalty, own our own gallery,then lose everything in the aftermath of 9/11. Undaunted, we start over again, homeless & pennyless after 40 years of marriage, We are still rich. We just don't have any money.
Where to find Tery Fugate-Wilcox online
Videos
Art & Conversation ....darling
one of the weekly dinners at shakespeare's fvlcrvm art gallery
Books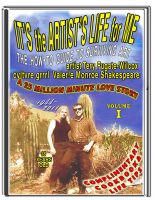 It's the Artist's Life for Me!
by

Tery Fugate-Wilcox
Valer!e Monroe Shakespeare died May 18,2011 Artist's dual-memoir a lifelong love-affair with his muse,together 24/7,48yrs. Kid from the wrong side of the stock car tracks. Thrust into NYCs world of high; art, society, celebrity scenes (Trumps, Kennedys, Cuomo, Liz Taylor, Bruce Springsteen, DeLorean, Kevin Kline, Warren Buffet, European Royalty; with life, cookbook & entertaining tip, 9/11 Tribeca
Tery Fugate-Wilcox's tag cloud