M J Ellwood
Biography
The book is a collaboration. It reflects the true life experiences of some events from the childhood of the three participants, Michael and John Ellwood, and Howard Leach who provided most of the illustrations.
The hardcopy book was published in 1983 and we sold over 200 copies, mainly in the North West of England. If the Ebook is popular we will collaborate on a sequel.
Books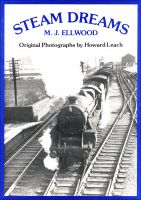 Steam Dreams
by

M J Ellwood
In the early 1980s, three former trainspotting friends meet for reunion weekend to travel on a steam special. They hope to relive the excitement they felt as boys when they would spend hours on cold and windy platforms hoping for some good "cops". Dave Lowe is a civil servant and amateur photographer; Doctor Peter Thrales is a noted academic and Gordon "Dub" Walker a local council worker.
M J Ellwood's tag cloud