J. A. Steiner
Biography
Now retired, I lived and worked overseas (Asia and Europe) for many years during a lengthy career with the CIA. I served in the Marine Corps (4 years) and am a 1965 graduate of the University of Oregon. I'm still married (51 years) to my first true love and have one son and two grandchildren. My formative years were spent in Colorado, Idaho, and Oregon; I have lived in the Washington D.C. area off-and-on for the past 45 years. My enjoyment of writing and a life-long interest in religious thought and behavior combined to produce "Answering Aunt Bertha."
Smashwords Interview
Books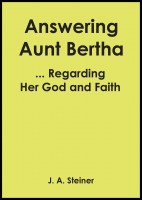 Answering Aunt Bertha ... Regarding Her God And Faith
by

J. A. Steiner
(5.00)
An aging unbeliever responds to an aunt's proselytizing in this frank critique of religious thought and behavior. The author's decades-old quest to better comprehend and explain believers and their faith-driven ways leads to some novel conclusions. Primal instincts figure prominently in this forthright contemplation of why modern humans continue to embrace the beliefs of ancient men.
J. A. Steiner's tag cloud