Judith Albright
Biography
When I was younger I naively believed that life progressed in a straightforward orderly fashion. I truly believed that, just like wine, relationships only got better with age; that each job would be better and pay more money than the last; that I had all the time in the world, and that l was in perfect control of my life. But "life" had different ideas. Over the years my life took all sorts of interesting twists and turns, certainly not in a straight line or all of them forward. Events such as divorce, death of family members, job losses, health problems and family issues all surfaced and had to be addressed. I spent years in corporate America holding down a series of jobs, some of which came close to being fun and fulfilling, but somehow the jobs I really liked came to an end, mostly for reasons beyond my control. Looking back, I realize I spent a lot of years on "sinking ships," forcing me to reinvent myself more than once. The final result of all that is that all these life experiences plus the specialized training I pursued is what prepared me for the work I do today. For the past nine years I have had a stress management practice in Ft. Collins, CO that focuses on helping others calm runaway emotions, release negative behavior patterns, and change false beliefs that are limiting them and sabotaging their lives. For more information about me and how I can help you, I invite you to visit my website at www.stressfreewitheft. Better yet give me a call--you can reach me at 970 218-8643.
Where to find Judith Albright online
Books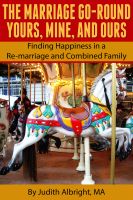 The Marriage Go-Round Yours, Mine and Ours - Finding Happiness in a Re-marriage and Combined Family
It is easy to assume that anyone who has gone through the painful process of divorce would have learned something from it and be less likely to repeat the mistakes of the past. Unfortunately, this is not always so. This e-book takes an in-depth look at what went wrong in a previous relationship and what needs to be considered before entering a new marriage, especially when children are involved.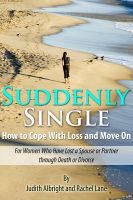 Suddenly Single
Faced with a sudden death or an unexpected divorce and having to go on as a single person can be frightening. But no matter how bleak life looks, you still have options. This e-book is packed full of information about what you can do to ease the transition, regain control of your life, and build a successful new life as a single woman.
Judith Albright's tag cloud