Joel Corenman
Biography
Joel Corenman is a novelist, screenwriter, movie producer, and bar/club owner in Los Angeles. Keep your eyes out for two more novels coming soon.
HITBOY – A dark comedy about a School nerd by day, a hit man by night.
THE RANCH – An action, suspense, horror novel set in New Orleans, where young pregnant women seem to disappear. Just what kind of voodoo goes on at The Ranch?
Books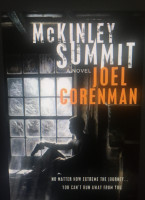 McKinley Summit
by

Joel Corenman
21 yr-old, Cody Packman, finds himself running from one deadly situation to the next. Whether it's running from angry ex girlfriends, to the local strip club bouncers, to running from meth'd out skinheads,to the feds, to drug kingpins, Cody is having fun.... until it's no longer fun when he finds himself in a game of life or death.
Joel Corenman's tag cloud