J. H. Drake
Biography
I am J.H. Drake, a new author here at Smashwords. I hail from a small town in New York, and much of my life centers around writing and reading as well as my other hobbies. My main interests are fantasy and science fiction, therefore those categories will be my main focus as a writer.

I also love to woodwork, and I am getting into casting metal, too. So if I happen to talk about blacksmithing and woodworking in my stories, the details will come from personal experience on the subject.

Oh, and I fly model aircraft, too. It is one of my oldest hobbies, and is something I share with my father.

Thank you for visiting my page!
Books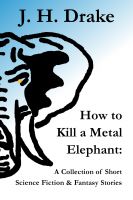 How to Kill a Metal Elephant: A Collection of Short Science Fiction & Fantasy Stories
by

J. H. Drake
From war-torn streets and alleyways to distant planets filled with whispered secrets in the dark, this collection of short stories by new author J. H. Drake takes the reader on a journey through the eyes of several characters as they struggle to simply survive. From the pragmatist to the cynic and oppressed, watch as their lives are changed, and not always for the better.
J. H. Drake's tag cloud