J. H. Drake
Biography
I'm just a guy in my twenties from a small town in New York, who grew up drinking on Star Wars and other science fiction and fantasy works. I have many, many interests, ranging from woodworking to wishing I could read science fiction and fantasy all day long until my eyeballs dried up, to writing, but I've picked just two of those things so far that I consider part of my life's work, sadly.

I've concluded that the quota of smiles around the world is severely lacking, so I have decided to up the ante as much as I can with my style. In simple words, I like to have humor in my stories and plots. The reasons behind this are not quite as flippant. I've never been healthy. Books have helped me to feel a little bit better while growing up, even if for just an afternoon at a time as I occasionally stared out a window and dreamed of what I could do if I could fly to the stars and explore a whole new galaxy, instead of being cooped up with a temperature. Books with more humor in them always made me feel a little bit better, so I've decided to do the same: to make at least some stories that will make others laugh, and maybe help a few who need a pick-me-up along the way.

"The Metal Menace" series is my first of many that are roiling around in my head. I think it's plot is a bit... off the beaten path, even for me, but that only has to be a good thing. I've laughed my butt off while writing it at times, so that has to count for something, right? Even my mother, whose great love concerns Christian Romance, likes these books. That has to say something, though what that something is even I don't wish to ponder for too long. Regardless, all you need to know is that I even got her hooked, when I'd thought only horse-drawn carts and distant, pure romance would get her to smile. These are nothing like that.

So if I can warp the universe like this, read my stuff, damn it!
Books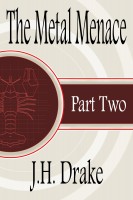 The Metal Menace: Part 2: A Novella
by

J. H. Drake
"The Feller" has cheated death, along with his trusty chef, Mirriam, but their adventure has only just begun as the Raider King is bent on letting everyone know how benevolent he is by wiping out everything, starting with the town of Hope. Now, it's a race against time as the Hero pits all in an effort to save what he holds most dear. I'll tell one thing, it's not life. Oh, no, it's not that.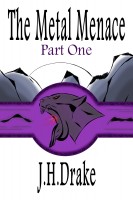 The Metal Menace: Part 1: A Novella
by

J. H. Drake
"The Feller." He's felled hundreds with his giant blaster, blowing away Evil for his mercenary ways, and called "Hero" for it. All for... food? Really? Well, until he blew himself up. It was an accident. Now, he must find his way back home, because Hope, the town he's been protecting, is now vulnerable to the Raider King, and that includes the secret the King's been pining for all along...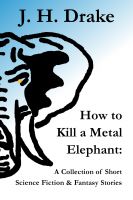 How to Kill a Metal Elephant: A Collection of Short Science Fiction & Fantasy Stories
by

J. H. Drake
From war-torn streets and alleyways to distant planets filled with whispered secrets in the dark, this collection of short stories by new author J. H. Drake takes the reader on a journey through the eyes of several characters as they struggle to simply survive. From the pragmatist to the cynic and oppressed, watch as their lives are changed, and not always for the better.
J. H. Drake's tag cloud