Shermayne Tan
Biography
The author is married with two kids and lives in Singapore. She has worked at home since 2007. Prior to this, she was employed in a few dynamic US multi-national companies. The author holds a bachelor of Business degree from the Nanyang Technological University in Singapore.

Since becoming a working mum, she has utilized various childcare options available –nanny, relatives, domestic helper, childcare centre, even a short sprint at the infant care centre - to continue working away from home but later discovered through painful experience that nothing beats being there personally for her pre-school children in the majority of their waking hours.

She hopes to use her writing to encourage more working mums to have the best of both worlds and help their children, spouse and other family members enjoy the working mum's presence where and when it matters most.
Books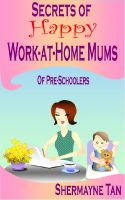 Secrets of Happy Work-At-Home Mums of Pre-schoolers
by

Shermayne Tan
(5.00 from 1 review)
This booklet gives readers ten reasons why mums with pre-schooling kids are much happier working at home, other than being close to their kids while earning an income. It draws from the experience of these mums to answer the question for those thinking of making a switch to work at home: What's in it for me? A checklist and some important tips are also included to ensure a seamless transition.
Shermayne Tan's tag cloud