J. J. Sewell
Biography
J.J. Sewell is an author who lives in Atlanta, GA. His recent work(s) include: Over My Dead Body. He enjoys reading, writing, worshiping God, spending time with family and friends.
Videos
Over My Dead Body Audiobook Trailer
Audiobook trailer narrated by Steve White.
Books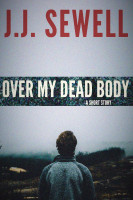 Over My Dead Body
by

J. J. Sewell
Vengeance is mine, I will repay, saith the Lord, according to the Book of Romans 12:19, but as for David (a devoted Christian turned backslider) , vengeance belongs to him personally and he will stop at nothing to get it. As David travels along a path of destruction, one question remains: Do two wrongs ever make a right?
J. J. Sewell's tag cloud