John Jetsyn Tache
Biography
John Jetsyn Tache wrote for the CBS Military Drama JAG. He has a Bachelor of Arts degree in Political Science from Boston College and resides in Southern California and Boston, Massachusetts.

All of the events described in this book are fictitious and solely the work of the author's imagination. No person or company referenced in this book endorses this book or gave permission to be the subject of the author's satire. This book is not intended to incite violence against anyone or anyplace. The celebrities being depicted in this literary work are done so in jest and thus making the depictions inaccurate and untrue.
Books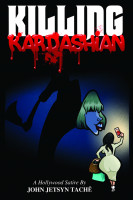 Killing Kardashian
by

John Jetsyn Tache
The Killer was a twisted psychopath who needed to make a statement. Something Biblical. Epic. And even though he was well planned, he imagined that killing the Kardashians with their complex schedules and airtight security would be an impossible feat at best. Still he had to try. Something had to be done.
John Jetsyn Tache's tag cloud