J.M. Franco
Biography
I am me I suppose. I used to live in Southern California for the majority of my life, but am a resident of Central Oregon now. I did not move for the weather.
I spent too many years watching TV, movies, reading comics and sci-fi/non-fiction novels, plus a lot of gaming, and it has turned me into a muddled up writer with too much to say.
I just hope all that view my stories enjoy my characters and build ups, and perhaps become inspired yourself.

Any questions, comments, or wish to discuss my novels and future work, feel free to email me at Veritech_101@yahoo.com

-I am currently writing the sequel to 'The Heart of a Monster' entitled 'Number 27'.
Books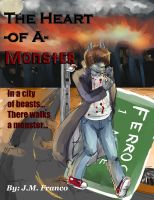 The Heart of a Monster
by

J.M. Franco
In the dead of night a strange drifter strides into a anthropomorphic town, quickly being taken in and starting up trouble. Once the local law suspects the drifter, Midnight, of being an infamous and immortal killer, enemies of his past begin to show up and rock the foundation of the small desert city. Midnight soon finds himself torn between his need for vengeance, and protecting those he loves.
J.M. Franco's tag cloud