J. Mark Fox
Biography
J. Mark Fox received his Masters Degree in Speech Communications from the University of North Carolina in Chapel Hill in 1981, and a Master of Divinity degree from Luther Rice Seminary in 1990.

Mark is married to Cindy, and they have seven children, two daughters-in-law, and three grandsons. They live in Burlington, North Carolina. Mark has been Pastor of Antioch Community Church since 1987 and an Instructor in the School of Communications at Elon University since 1990. He has taught over 2500 students in his Public Speaking courses. He also has a weekly podcast called Healthy Church Radio and writes a blog at jmarkfox.com.
Books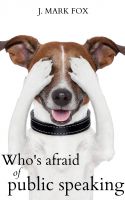 Who's Afraid of Public Speaking?
by

J. Mark Fox
What is your greatest fear? If public speaking makes you break out into a cold sweat, you are not alone. It tops the charts every year of "most terrifying." At the same time, speaking well is an ability that will serve you in every area of life. Looking to overcome your fear and learn a life-changing skill? J. Mark Fox has taught public speaking for 24 years, and his book will help.
J. Mark Fox's tag cloud