J. J. Morrow
Biography
I'm a lover of parasites and I recently completed my PhD in Applied Ecology with a focus on ancient parasitism. I most often read and write non-fiction, but I have had an interest in creative writing since I was a child. I wrote my first novel, Rise of the Wobanzi, by combining my love for parasites with my creative interest in zombies. I hope to someday finish writing the sequel to this piece, Fall of the Wobanzi, which I started a few years ago. Eventually, I'd like to finish the trilogy with Wobanzi Nation. I'm also working on a collection of poetry that I wrote when I was an angsty teen in high school and on a piece of creative non-fiction about my graduate school experiences. Keep your eyes open for future works from me! I'm also passionate about cooking, blogging, and enjoying delicious coffee and teas with close friends.
Where to find J. J. Morrow online
Books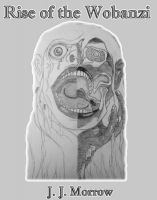 Rise of the Wobanzi
by

J. J. Morrow
Out of the dense jungles of the Madagascan rainforest comes the tale of a sacred tribal ritual that begets an ancient disease. A group of friends seek sanctuary from the pandemic at a biological field station and struggles to fortify their new home, procure supplies, and understand the disease's origins. The team hopes they have the luck and time to save what is left of the world they once knew.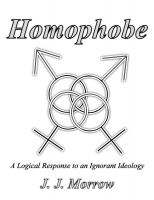 Homophobe: A Logical Response to an Ignorant Ideology
by

J. J. Morrow
(5.00 from 1 review)
A young graduate student finds herself in an altercation at a coffee shop with a man insisting homosexuality is an unnatural, exclusively human phenomenon. Her intelligence and sense of morality questioned, she sets out to prove him wrong. This work of literary nonfiction is a must read for anyone looking to understand how homosexuality exists as a component of the natural world.
J. J. Morrow's tag cloud