Joan Lambert
Biography
Joan Dahr Lambert is an academic who accidentally became a novelist when she set out to write her first book. Intended as a non-fiction account of female contributions to human evolution (about which she knows a great deal), it mysteriously transformed itself into a novel as words and scenes appeared in her mind. That was CIRCLES OF STONE (Simon& Schuster 1997), and she has never looked back. Since then she has written two other books in the Mother People Series: CIRCLES IN THE SKY, which tells the story of the next Zena, and ICE BURIAL, which tells the story of the 5,000 year old Iceman discovered as glaciers melted in Italy and will be published soon.

On a lighter note, Lambert also writes British-style mysteries. Books One and Two in the series, WALKING INTO MURDER and WADING INTO MURDER feature Professor Laura Morland, an irrepressible sleuth with a love of adventure, an impetuous nature, and a tendency to be in the wrong place at the right time - all traits that land her in unusual and often dangerous situations as she pursues her love of walking in England and other parts of Europe. It is no accident that Laura goes on walking trips; so does her author. Nor is it accidental that Laura is a professor of Gender Studies. Lambert has studied gender issues for more than thirty years.

Book Three in the series, SKIING INTO MURDER, continues Laura's adventures, this time on skis (a sport she also enjoys but at which she feels singularly inept) in the famous towns of Zermatt and Murren in Switzerland. Book Four, as yet unnamed, will return to England, this time in Cornwall; Book Five will take place in Norway.

Writing the mysteries has been one of the most joyous occupations I could ever have imagined. It is FUN! Hard work, harder than a prehistoric novel because mysteries have to be so tightly plotted and one has to keep track of what is in every person's head at any given moment - no mean feat, I discovered. Mysteries also provide a way to talk about some of my passions - like female sex slavery and forced child prostitution - while maintaining a light-hearted tone. That's a challenge, and I like it. I also hope that by addressing these problems in an entertaining way, I can make more people aware of their existence and the need to address them.

Thanks for listening to me! Joan Dahr Lambert
Books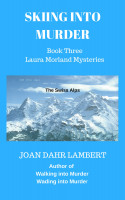 Skiing into Murder, Book Three of the Laura Morland Mystery Series
by

Joan Lambert
Laura Morland is back in the most complex case she has yet encountered. So is Thomas, her enigmatic art detective love interest, who is tracking down art stolen by the Nazis and gets shot at for his effort, his vivacious daughter Catherine, and the six foot Violet. Together, they tackle a bewildering variety of of criminals whose perpetrators use old bomb shelters to hide their illicit activities.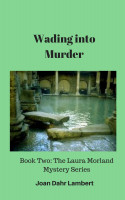 Wading Into Murder: Book Two of the Laura Morland Mystery Series
by

Joan Lambert
The irrepressible Laura Morland, Professor of Gender Studies, is back again! In WADING INTO MURDER, Laura is forced to wade across a rat-infested pool to rescue an abandoned baby in the famous Roman Baths of England. Attempts on her life and near-escapes come thick and fast after that as does an inexplicable murder. Only a totally unexpected accusation at the very end reveals the merciless killer.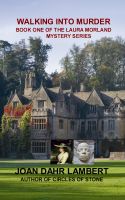 WALKING INTO MURDER - Book One of the Laura Morland Mystery series
by

Joan Lambert
Meet the irrepressible over-curious new female sleuth, Laura Morland, as she embarks on a solo walking trip in the Cotswolds of England. She is kidnapped by a(charming) man who may or may not be a murderer, held in an ancient manor house where she finds a body and meets a host of ecccentrics, none of whom are what they seem. Walking into Murder is impossible to put down and fun to read. Try it!
Joan Lambert's tag cloud