Joseph Baca
Biography
Joseph Baca is a native of Winslow, Arizona and attended Catholic and public schools in the area. In his late teens, he moved to California and pursued the career of conductor with a major railroad transportation company. Baca is retired and resides in Maricopa, Arizona with his wife and grandchildren.
Where to buy in print
Books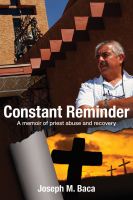 Constant Reminder
by

Joseph Baca
Constant Reminder is the turbulent biography of Joseph Baca. In the 1960's southwest, an innocent Hispanic child's world is crushed by Father Clement Hageman - pedophile. The times also reflect an all-powerful Catholic Church and its climate of fear and secrecy. Follow Baca's downward spiral of alcoholism and drug addiction. However, you'll cheer when he overcomes every adversity.
Joseph Baca's tag cloud