J. S. McInroy
Biography
J.S. McInroy is a man who, as have the characters in his novels, has experienced a time of reckoning, and who has emerged from that neither particle nor wave, neither light nor darkness. He has no quest, no purpose; what he does have, however, is a semi-humorous urge to, by employing his own life as an instrument while not defining it as such, cast doubt upon Bob Dylan's statement that "Some of us are prisoners. The rest of us are guards," by minute by minute, nanosecond by nanosecond refusing to become imprisoned within his own identity as well as revolting against the notion that it is his bounden duty to stand watch over his sacred self.
Where to buy in print
Books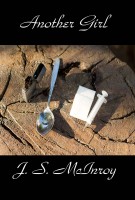 Another Girl
by

J. S. McInroy
Mr. McInroy claims to be familiar with various addictions, Norse goddesses on motorcycles, and the allure of each. He adamantly asserts that the divine is always with us, whether riding a chariot across the sky, hanging from a cross, or driving the back roads of America in a Dodge Charger Hellcat. His title is stolen from a Stones lyric and his desert land from his novel Army Girl.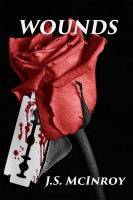 Wounds
by

J. S. McInroy
Mary Devstenia, is recently returned to Troy, New York from her Army Reserve deployment in Iraq, during which time she was involved in the shooting-deaths of an Iraqi family, including their small daughter. The effects of this incident are most profound, and Mary soon finds herself descending into an emotional Hell of her own creation. Her invisible wounds perhaps are mortal.
J. S. McInroy's tag cloud