Janelle Taylor
Biography
Born and reared in Athens, GA as a country girl, which gave me great training for writing historical romances. I am married to my best friend of 50 years, have 2 married daughters, and 4 grandchildren. We do a lot of RVing, biking, hiking, fishing, and all sorts of outdoor fun. I graduated from Athens High School and attended Augusta College. I used to be an orthodontic nurse and medical research technologist IV, which gave me many things to use in lots of my books. I write in various genres and subgenres, even horror for my "dark side" and a children's book. I have 55 books/ebooks, 5 novellas, and 4 collections. I've made the NYTimes bestseller list 9 times and the PW Million Copy bestseller list 7 times. I'm honored to have won many awards and done many interviews, TV programs, and hosted a QVC book club show. I'm in print, eBook, audio, Braille, books on tape, book clubs, and more. I have over 60 million copies of my books in print worldwide and have sold in over 50 languages and countries. I began in 1977, sold first two books in 1980, and had my first release in 1981. I have contributed to other authors' books and done many charity events. In 4/08, I was awarded a "Pioneers of The Romance Industry" by RT, and honored as one of the "Legends of Romance" in 5/13. I am in the RWA Hall Of Fame. Listed as one of the "Top Most Famous Georgians" on www.50states.com. I have been on the cover of many publications, including Diabetes Forecast, Athens Magazine, Augusta Magazine, Cableweek, and more. I have been photographed for STAR (2x), PW, NYTimes newspaper, and many others. I have done volunteer work with the ADA, given speeches about diabetes among Native Americans, and written a book about a diabetic heroine, using my own diabetes as research. I help support Lakota Indian children, as I've written two series about the Lakota people. I have been an honored guest at a Lakota Pow Wow and presented with many gifts from them and from Cheyenne. I love creating stories, and I deeply appreciate all my readers, librarians, and booksellers.
Where to find Janelle Taylor online
Books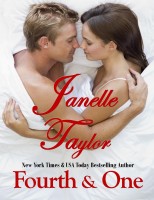 Fourth & One
by

Janelle Taylor
Super Bowl winning quarterback, Drew Hawkins, is in the right and wrong frame of mind to meet a woman who will challenge all he knows and all he holds dear. A woman who causes him to break all of his rules.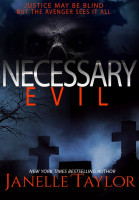 Necessary Evil
by

Janelle Taylor
Gritty. Dark. Spell-Binding. Sinister. Intense. Not for the faint of heart. Necessary Evil is a page turner that will be glued to your hands and will make your heart pound- and compel you to check the locks on your doors and windows. When Justice is blind and helpless, a merciless and cunning vigilante steps in and becomes a Necessary Evil, one willing to go to any lengths to punish the guilty.
Janelle Taylor's tag cloud