Jessica Waring
Biography
Jessica Waring is the author of Sinister Inventions. She was born on that fateful day, 20th January 1989, on which nothing in particular happened. She has been smiling awkwardly at everyone ever since. Once, she went on a celery and rhubarb only diet, which lasted 5 minutes when she realised what celery tastes like. She is from dear old Blighty but currently lives in New Zealand with her partner and any small animals that accidentally come too near them. Sinister Inventions is her finest (and only) work to date.
Where to find Jessica Waring online
Books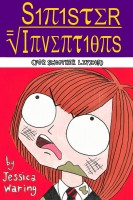 Sinister Inventions (For Smoother Living)
by

Jessica Waring
The stupidest boy in the world sets out to persuade a genius inventor girl to fix the hole in the Ozone layer. Ages 8-12.
Jessica Waring's tag cloud