Jack Eason
Biography
Jack Eason lived in New Zealand for forty-two years until 2000 when he returned to his birthplace in England. As far as he is concerned he will always consider himself to be a Kiwi. After military service in the 1960's, he travelled the world, visiting exotic lands and making many friends. Now in his late-sixties he is content to write and travel via the Internet. Besides writing novels and short stories, he contributes to his own blog "Have We Had Help?" His literary interests include science fiction, history, both ancient and modern, and humorous tales like those written by his fellow writer Derek Haines, such as "HAL". Now retired, he lives in his home town surrounded by his favourite books, ranging from historical fact to science fiction. His literary icons are J.R.R Tolkien, George Orwell, Arthur C Clarke and John Wyndham.
Books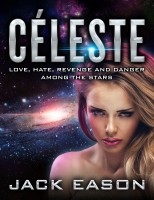 Céleste - love, hate, revenge and danger among the stars
by

Jack Eason
There was a time when mankind's only means of exploring the Universe either meant sending unmanned probes to various locations across our solar system. That is about to change.
Jack Eason's tag cloud