Jack Press
Publisher info
Jack Press publishes stories with an edge. We like to explore themes of debauchery - that of the body or the mind. Or both. Some of our books contain no naked bodies, but their dirt is undeniable. After all, cheating, lying, stealing, and scheming are as dirty as our juiciest piece of erotica.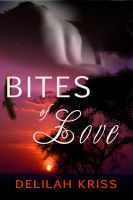 Bites of Love
By
Delilah Kriss
Price:
$0.99 USD.
Words: 190,070. Language: English. Published: May 28, 2013 by
Jack Press
. Category: Fiction
(5.00)
Erotic Romance/Adventure in the African bush. (190 192 words) WARNING: Explicit sexual content. ** A cool stream of sweat rolled down between her shoulder blades and ran all the way down the hollow of her back and tickled in the cleft of her behind as she stood listening to the utter stillness with bated breath. Her tongue was sticking to her dry palate and her heart was pounding in her throat...
Jack Press's tag cloud