Jade Green
Biography
Jade Green was born in Southern Illinois in 1977 to a singer and an artist. She has written books since she was three years old, including her own illustrations throughout. She went to college at the Savannah Institute of Art and Design, finished her degree at the Southern Illinois University at Carbondale, and is now looking towards higher education in the role of library science. Jade Green specializes in sexually explicit erotica ranging from heterosexual encounters to same sex, to three or moresomes. She has been absorbed in writing an online soap opera for the past two years that she is currently adapting and adding to in order to market for Kindle. Her writing often includes BDSM, specialized kinks, alternative sexualities, and anything that is not considered "mainstream" to the average, non-adventurous reader. Be brave, be curious, and have yourself a good time with her works!
Where to find Jade Green online
Books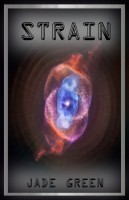 Strain
by

Jade Green
Raised within a top secret military compound in the heart of America's desert, Blair Morand is removed to the Dog Pound under the control of Doctor Cain, a Helix researcher who has mysterious ties to her absent father. Trained as one of Cain's Elites, she slowly realizes that Cain's interest in her has a darker purpose, and must make a decision that will threaten her very life.
Jade Green's tag cloud