Annette Jahnel
Biography
Annette is a new age nomad, a pusher of boundaries, a catalyst, a destroyer of boxes, a peaceful anarchist and a questioner of every thing. Annette would like live in a world where borders and boundaries were only figments of the imagination, language was a universal think tank and shiny small things were exciting only to magpies. Annette would like to live in a world where the mind advanced faster than the computer and the only thing that governed us was our own self-control. Annette does not care for fashion or shoes she does not know the latest fancy restaurants or hip words, although she knows a lot of words and uses them in a variety of interesting and exciting ways. Annette doesn't believe that all is right with the world. Or that technology is the answer to everything. Annette thinks bunny huggers are as dangerous as dolphin hunters and that the only way forward is to evolve and the only way to evolve is to pay as much attention to our brains as we do to our biceps. She believes human evolution can only take place in the human mind and that humans should pay more attention to thinking than shopping. Annette thinks, a good think is a great way to pass the time and that having a truly original thought is as good as it gets. When she leaves people happier and more inspired than when she found them she believes she has done well. Annette sees rainbows in dews drops and value in a carpenters hand made chair but none in a banker's lair. She knows to step lightly in deserts and other people's lives and beliefs. She knows she knows nothing and is quite happy to admit it, having discovered that it is the best way to learn something new everyday. And despite not having many pairs of shoes or in fact much stuff at all she doesn't feel in the least deprived as she believes the pursuit of wisdom is far more exciting than the pursuit of stuff. Join her on a little trip around the planet and experience the world through her eyes because above all, Annette sees thing differently.
Where to find Annette Jahnel online
Where to buy in print
Books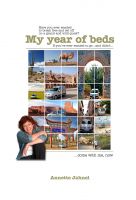 My Year of Beds
by

Annette Jahnel
Freedom adventure independence. To travel alone not just to learn to know the world, but to learn to know yourself. To travel alone is to develop a deep awareness of your own ignorance and insignificance and to become aware of the grand splendor of the planet that harbors us and the universe of which we are a small part.