Jake Alexander
Biography
Born
Brooklyn, NY, the United States

Genre
Non Fiction, Biography, Social Issues

About this Author
Jake Alexander is a U.S. based finance executive, who due to the provocative nature of this work and for the anonymity of his subjects, sometimes writes under this pen name.

Under his real name, Alexander has published numerous articles on finance and investing, as well as non-business pieces related to societal observations, communications and the very human quest for happiness.

Airplane Rides – Observations From Above is a compilation of actual conversations had by the Author while traveling on business over the course of a decade. In early 2003, the work caught the attention of the William Morris Agency who then began marketing it later that same year. Airplane Rides received high praise from editors at such reputable publishers as Warner Books, St. Martin's Press and Little, Brown and Company. Unfortunately, despite this positive reception, Airplane Rides was ultimately deemed commercially unviable due to its "short story" format which had historically proven to be difficult for publishers to market. The William Morris Agency, still believing in the work, took a second shot at marketing it in 2011 as a television series. The concept again was well received, this time by several producers and actors, but failed to materialize.

In 2014, recognizing the surge in support for electronic short for content, Alexander self-published Airplane Rides as an eBook, finally making it available to readers around the world and airplane rides away.
Books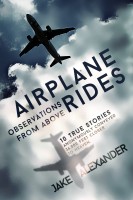 Airplane Rides - Observations From Above
by

Jake Alexander
10 true conversations, anonymously conveyed by airline passengers to the author. Written under the pseudonym Jake Alexander, Airplane Rides follows a highly successful, but emotionally isolated, real life finance executive through actual conversational confessions had with seatmates.
Jake Alexander's tag cloud