Cynthia Brooks
Biography
About the Author
Cynthia Brooks was a very serious student throughout her life. While pursuing a legal career in college, she attended classes in literature and creative writing. These classes opened the door to her true heart's desire, writing. Several of her professors urged her to pursue a writing career to utilize her newfound talent. Writing, it seems, came more naturally to her than anything else.
However, she decided to continue on her legal path, writing for recreation, never publishing her work.
During her life journey, Cynthia found that most people really do not know how to find happiness within them. Because of this, they miss so many wonderful things in life.
It became evident that learning to find happiness by sharing and caring for others should be learned early in life.
Jake's Happiness is an attempt to show children the joy of reaching out to share with others and the true happiness it brings.
Books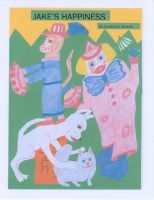 Jake's Happiness
by

Cynthia Brooks
Jake, a clown, and his monkey, Happiness, travel from town to town, spreading joy to others. Jake plays the accordian, while Happiness, the monkey plays with everyone and dances. There is much joy and laughter, when Jake and Happiness bring the town together.
Cynthia Brooks' tag cloud