Джеймс Мак-Канли
Biography
I write erotic stories and novels. In my books, the main people are their character and feelings. I believe that the search for happiness is guided first and foremost by the beacon of emotional attraction, if this is really a search for extraterrestrial bliss that we once knew in heaven. Please keep electronic publications in a place inaccessible to children, because in my books I have descriptions of erotic and sexual scenes.
Я пишу эротические рассказы и повести. В моих книгах главными являются люди, их характер и чувства. Я считаю, что поиск счастья ориентируется в первую очередь на маяк душевного притяжения, если это действительно поиск внеземного блаженства, которое мы когда-то познали на небесах. Просьба хранить электронные издания в недоступном для детей месте, так как в написанных мною книгах присутствуют описания эротических и сексуальных сцен.
Books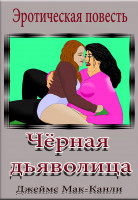 Чёрная дьяволица.
by

Джеймс Мак-Канли
Светлана, женщина средних лет решила провести отпуск в небольшом посёлке, где сняла для себя на весь сентябрь отдельный дом. Её внимание привлекли две дамы, проживающие вдвоём по соседству. Наблюдая за ними, Светлана решает, что одну из них необходимо спасать от жестокого обращения подруги. Но дело повернулось совсем неожиданной стороной.
Джеймс Мак-Канли's tag cloud