James L. Rudolph
Biography
James L. Rudolph lives in Poway, California, with his fiancée Debbie. James has had several successful small businesses and has been an avid writer for years. The idea for this book germinated 30 years ago and has finally come to fruition. From Tears to Triumph is James' first attempt at fulfilling his life-long dream of publishing a full-length book. His hope is that this book inspires and imparts a valuable lesson on love and relationships.

Please remember to leave a review for this book at your favorite retailer. Thank you.
Books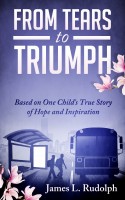 From Tears to Triumph
by

James L. Rudolph
(5.00 from 3 reviews)
Relive your own adolescent vulnerabilities, dreams, and antics in this coming-of-age story. The story highlights events in the author's life which influenced the paths taken by himself and his brother, Joe. The story's colorful characters and events will seem incredible at times. You will laugh and cry as the author shares the events of his frenzied youth and how he chose to rise beyond the chaos.
James L. Rudolph's tag cloud