Jan Strepanov
Biography
I've remained critical of everything since my rude awakening, age four, to formalized education. Nonetheless, and no doubt driven by my own particular mix of social conditioning and expectation, I graduated university in social sciences – teeth gritted amidst what had become a profound distrust in conventional knowledge and the general world order built upon it. Since then I've hit plenty of wrong notes in bands, bummed Europe, had countless casual jobs, been in and out of isolation, depression and eating disorders, got into graphics, run a couple of successful businesses, and noticed that such apparent real life chaos is hardly unique to me. But the lifelong subliminal conviction that something is deeply 'wrong' with humanity eventually morphed into an obsession with what the problem might be and how we might rise above it.
Where to find Jan Strepanov online
Books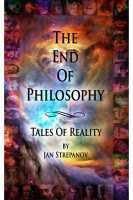 The End Of Philosophy: Tales Of Reality
by

Jan Strepanov
The End Of Philosophy goes full circle from nihilistic desperation to farcical comedy. Twelve chapters dismantle everything you thought you ever knew – three others help you laugh at the resulting dilemma. A nonetheless serious theme is that we humans must transcend our current thought paradigms if we are not to prove too clever for our own good.
Jan Strepanov's tag cloud