Jan De Haan
Biography
Jan Folkerts de Haan was a Dutch journalist and author. He was born in 1906 in Boornbergum, and village in the province of Friesland, and died in 1978. He worked for a series of newspapers, including the Trouw.
His first love of teaching was evident in his authorship of a number of books for children. Besides De Torenklok Zweeg (The Tower Clock Stopped), he also wrote in the Dutch and Friesen languages Het kolenschip van Venlo (The coal ship of Venlo)(1960), De holle polsstok (The hollow pole)(1952), 't Geweld onttogen (1948), Een schip in de dorpsvaart (1950), It Frysk findel (1982), De Friese kurassier: historisch verhaal 1812 – 1824 (1944), Fen bûgjen frjemd (1945), and Zulke galgebrokken (1946).
Books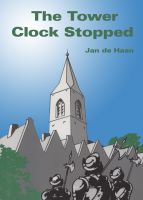 The Tower Clock Stopped
by

Jan De Haan
The Holy Roman Empire, led by Philip II of Spain, was persecuting the Protestants, and William I of Orange, revolted against this harsh rule in the Eighty Year War. This is a story about a surprise attack by the Spanish army on Sluis, a small city in a southern coastal province of The Low Countries, now known as The Netherlands.
Jan De Haan's tag cloud