Jane Jenkins Herlong
Biography
Professional humorist, singer and best-selling author, Jane Jenkins Herlong finds the funny in dysfunction while entertaining folks with her comedy and singing heard on Sirius XM Satellite Radio and Pandora.

From the tomato fields of her native Johns Island, South Carolina all the way to runway of the Miss America Pageant, Jane's contagious optimism helps audiences learn how to handle difficult life situations with a sense of humor and grace. Through really funny original Southern stories and award-winning singing audiences learn life-skills dealing with stress to achieve more success. Jane travels across the country and has spoken in New Zealand and Germany. She is fluent in four langues: English, Southern, Northern and Gullah.

Jane's story of overcoming being labeled Dyslexic and other challenges give audiences a recipe for balancing their own personal journey with humor and hope through folksy wisdom-Southern style.

Jane is the author of the book, "Bury Me with My Pearls," "Bare Feet to High Heels: You Don't Have to be a Beauty Queen to be a Beautiful Person,"and "What Ta-Tas Teach Us." As a professional singer, Jane has recorded multiple CDs including her Big Band, Gospel and Broadway CD entitled, "Favorites." In addition, Jane has recorded her CD of Christmas Classics entitled, "The Spirit Of Christmas" along with numerous live recording of her comedy and live speeches that are available on iTunes and Pandora.

For more information visit her web site: www.janeherlong.com and check out Jane's funny YouTube Channel! http://www.youtube.com/user/janeherl
Books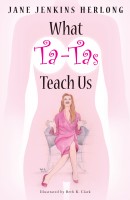 What Ta-Tas Teach Us - Celebrate the Ta-Tas!
by

Jane Jenkins Herlong
Jane Jenkins Herlong shares twenty life lessons filled with humor, inspiration and "ah-ha" moments. This beautifully illustrated book is for the young and young-at-heart. Laugh, love and share these timeless principles with those special women in your life. Honor the brave women in the fight again breast cancer. A portion of the profits will be given to support the fight against breast cancer.
Jane Jenkins Herlong's tag cloud