jason goldtrap
Biography
Florida native Jason Goldtrap is a graduate of David Lipscomb University in Nashville, TN and a perennial optimist. A believer in goodness, Jason's work reflects the bold, progressive American spirit. His first e-novel "Teen Girl From Mars" combines science fiction with human drama, wit and comprehensive spirituality. Set in a human colony on Mars in 2191, teenager Sarah Conrad must navigate her desires with her values and goals. Romantic and charming, enlightening and challenging, TGFM promotes the ideals of strength, virtue and nobility as monuments of the liberated mind.
Where to find jason goldtrap online
Books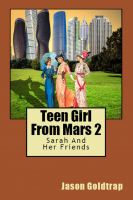 Teen Girl From Mars 2: Sarah And Her Friends
by

jason goldtrap
The continuing adventures of Sarah Conrad, a teenaged American girl growing up in an agricultural dome on the planet Mars in the year 2191. Sarah, Emily & Lynn must navigate various pressures from their love lives and experiences such as parties, a vacation Bible school & a visit to a military base. Full of romance, humor, optimism, excitement and family friendly values, it is a nonstop read.
Teen Girl From Mars
by

jason goldtrap
In the year 2191, on an American colonized Mars, Sarah Conrad, age 15, is growing up in the small agricultural dome city of Eagle Creek. She longs to leave home and explore the world which lies beyond her grasp. With loving parents, she must balance her own issues of romance and friendships within her own values. Funny, romantic, timely you'll love this book.
jason goldtrap's tag cloud