Jason Kinnear
Biography
Jason was raised in Kenton, Ohio, a small rural community in the Northwestern part of the state. An early passion was sports, specifically football, so when he was offered the chance to go play football and attend Harvard University, this "small town boy" decided he had to go. Unfortunately, the Ivy league did not offer scholarships, so during his second year, he joined Army ROTC as a way to help pay for hiseducation. After a few years in the military, Jason held various manufacturing management roles and is currently an Operations Manager of a Plastics Plant. During the 15 years since he was in the military, he also managed to marry a wonderful woman, and to this day has no idea how he tricked her into marrying him. But somehow through all of the smoke and mirrors, they were married in 1998 and proceeded to have 3 boys, who are truly the reason why Jason gets up in the morning, and at times, the reason he goes to bed early at night. Connor, Aiden and Owen are a constant source of inspiration, sometimes frustration, but watching them grow has been the most profound and self-satisfying things in Jason's life. As for writing, Jason enjoys the escape of being able to create a new reality when writing. And he has given a lot of thought to the idea that words are timeless. Jason states: thinking about inciting an emotion in a reader in a story of my construct is something that I think is amazing. Whether it be anger, happiness, sadness, or even hatred, I think that we all need to feel a range of human emotions to stay sane, and if a story I write can help do that for another, than I think that it is worthwhile. " Jason's novel, ELVOLUTION, a story about the origin of the Christmas Elves, is his debut work and certainly an homage to the Christmas traditions he has enjoyed over the years with his family.
Where to find Jason Kinnear online
Books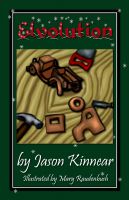 Elvolution
by

Jason Kinnear
If you ever wanted to know about how Santa Claus really found his elf workforce, then this story is for you! From Sakura Publishing author Jason Kinnear comes a tale of the Elbanians who went to America in search of work and a better life, and got way more than they expected!
Jason Kinnear's tag cloud