Jason Zephaniah III
Biography
Jason Zephaniah III is an enigma. He is a wise foolish man, a tall short man, and a strong weak man.
A foolish man shows great wisdom when he realizes that his wisest wisdom is but foolishness and the foolishness of God confounds the wisdom of man.
A man who stands up for the downtrodden and outcast; stands tall no matter how short he is and a man who is strong enough to hold on to Divine Strength is strong no matter how weak.
The experience of Jaaziel reflects the author's personal experience and his ongoing journey to forgiveness.
Jason Zephaniah III is also a pseudo persona. Yet even in the pseudonym, there is a hidden message. The name literally means, "God is my Savior for Yahweh Hides"

The author was inspired to use this name to remind him of those times in his life when Yahweh hid him from people and circumstances that sought to destroy him and saved him from the arrow that flew by day and the terror that lurked in the night.
Books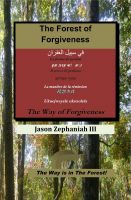 The Forest of Forgiveness
by

Jason Zephaniah III
This book is an epic journey of one man whose conflicted heart is on a quest for closure. The intentional gaps in logic and logistics, the designed disconnects of place and time forces your mind to engage the author in dialogues as you seek to bridge these gaps and connect the disconnects.
Jason Zephaniah III's tag cloud