Court Johnson, Sylvia Stallings
Biography
Court and Sylvia are storytellers who live with their dog, Katie, in Santa Barbara, California. Their backgrounds in mythology and metaphysics allow them to bring a supernatural realism to 15 year old Jasper Cain's detective adventures. They are currently finishing The Last Sky God, the second of The Jasper Cain Mystery Series. You can find out more about Jasper and his family on his web-site, www.jaspercain.com. While you're there be sure to read Jasper's blog. You'll get the latest news about creatures and demons infiltrating the human world, and be able to read the Myth Tales, the legends and folktales of the Creature Exile World.
Where to find Court Johnson, Sylvia Stallings online
Books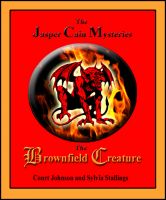 The Brownfield Creature
by

Court Johnson, Sylvia Stallings
The Jasper Cain Mysteries chronicle how 15 year old Jasper uses his investigative skills and witch blood, Crimson Fluid, to save our world from ancient monsters and beasts that were exiled to a world where witch covens, troll legions, goblin gangs, and zombie and ghoul mobs rule the surface, and a race of demons control a fiery Underworld.
Court Johnson, Sylvia Stallings' tag cloud