Jasper Costello
Biography
After receiving a degree in Molecular Biology, Jasper Costello went on to train in the law. He worked for over 20 years practising in law, a career that brought him into contact with scientists at the cutting edge of vaccine development. Here, he learned about the business of making vaccines and the huge challenges faced when developing a pandemic 'flu vaccine. While convalescing after an accident in 2005, Costello embarked upon writing THE OXBLOOD BOOK, drawing upon his experiences of Cambridge (England) where he lived, together with his knowledge of science and his experiences at university. The notion of a world-wide 'flu pandemic occurred to him as a potentially devastating and real threat that could face mankind. This was an early theme in his writing. As Costello progressed with writing the book, it was interesting to see this theme subsequently develop in the news and reach the public's consciousness, becoming a reality when the World Health Organisation declared a stage 6 pandemic of the H1N1 swine 'flu strain in 2009. Throw into the mix Costello's love of history (including his fascination in ancient Roman history) and his love of family, and the result is his first offering - THE OXBLOOD BOOK.
Where to find Jasper Costello online
Books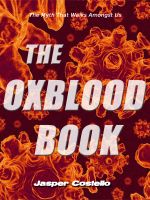 The Oxblood Book
by

Jasper Costello
Although 1000's of years old, the Sibyl of Cumae is most definitely alive. The ancient oracle is wreaking havoc in Cambridge, desperate to get The Oxblood Book, a book so powerful that good and evil forces are racing to get to it first. But, nobody told unassuming Cambridge student Jago Robins the book is destined to be his, coveted and protected for centuries by a secret network of Guardians.
Jasper Costello's tag cloud