Jay-Mat Hornetoad
Biography
Jay-Mat Hornetoad has been a lover of laughter since the day of his birth when the joke would be on his mother, he was two weeks late, and has remained a pain in the ass ever since! Each work of literature he creates is based on the same principle a dear friend of his revealed to him as a young man, if you can just learn to laugh at it, it has no power over you. Born in Jackson, Mississippi on the 1st day of December during 1980, he surprisingly found his way out of the womb, and has been soaking up all the laughter he can handle.
Where to buy in print
Books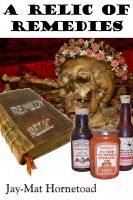 A Relic of Remedies
by

Jay-Mat Hornetoad
Remedies are one thing that everyone hears throughout their lives but never writes down. When the time comes that you need one, you can never seem to re-call what exactly it was. I was lucky enough to keep a notebook with me as I grew up, carefully recording each odd brew or concoction that I came across.
Jay-Mat Hornetoad's tag cloud