Jaya Siva Murty
Biography
Jaya Siva Murty is a business writer and social media manager from Visakhapatnam, India. Fascinated with the written word since the age of ten, she would file away her poems and short stories in a secret diary, till some were finally published by 'Times of India' and 'Savvy'. She has written for the Economic Times and now provides India-relevant stories for a Hong Kong based magazine. When she's not designing content for websites, or writing technical blogs and articles for clients worldwide, she spins yarns with unusual twists and turns through her works of fiction.
Jaya holds a business management degree and has taken creativity lessons at Stanford University. 'Canvas of Dreams' is her debut foray into novella writing.
Books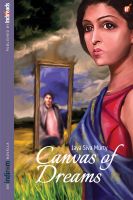 Canvas of Dreams
by

Jaya Siva Murty
Riya seems to have lost everything—the man she loves to another woman, her husband to death and her soul to fear. Can she confront the nightmares of her past and dream of a better future?
Jaya Siva Murty's tag cloud