Jean Christensen
Biography
Ever since I was a kid, my main goal in life has always been to be "cool". Being the only child in a small, eccentric family with a highly developed, offbeat sense of humor was a great help, and every artistic endeavor I ventured into was always highly encouraged. Thus, with time and practice, I became what people would call "an artist" - musician, painter, sculptor, collagist and... writer .
Although my books are always destined to make people laugh, there is usually an underlying hope that readers will perhaps become more tolerant towards people that don't fit into the mold of ordinary "sanity".
Books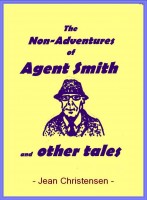 The Non-adventures of Agent Smith... and Other Tales
by

Jean Christensen
This book is a collection of short humoristic stories based on odd people in weird situations.
Jean Christensen's tag cloud