Jean M. Flahive
Biography
Jean M. Flahive, who has had a lifelong interest in the Civil War and Maine history, teaches college classes, has served as a dean of students at a community college, and has worked as a grant writer for numerous nonprofits. She's the author of Billy Boy, the Sunday Soldier of the 17th Maine, co-author of Remember Me, Tomah Joseph's Gift to Franklin Roosevelt, which won the Moonbeam Gold Award for Best Multi-Cultural Children's Picture Book in 2009, and co-author of the children's book The Galloping Horses of Willowbrook, which was named a finalist in the 2012 Maine Literary Awards.
Books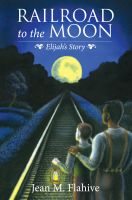 Railroad to the Moon
by

Jean M. Flahive
Runaway slave Elijah has been living with the Laird family on a small farm in Maine. The family grieves their soldier son, Billy, who had exacted a promise from Elijah to take his place, to be a big brother to ten-year-old Jamie. Now, Jamie's ability to heal hinges on his attachment to Elijah. Weaving historical realities into a work of fiction, this is a tale of friendship, loyalty, and love.
Jean M. Flahive's tag cloud